David G Wilson Art Collections
Shop for artwork from David G Wilson based on themed collections. Each image may be purchased as a canvas print, framed print, metal print, and more! Every purchase comes with a 30-day money-back guarantee.
About David G Wilson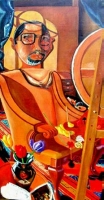 I am exhausting tremendous efforts in trying to depict a spacial dimension that is inclusive of the third and supported by a two dimensional surface. It is a dimension that exists somewhere within our three dimensional terrestrial space, congruent and mutually inclusive of empirical realities. Its existence is contingent on the shifting retinal impressions of the viewer's perceptions. I call it: "Alternative Reality. Videos below"
View a Video:Mom presenting "Attributes of Dominique Kubuli" to Dominica Museum
View a Video:Medgar Evers College Show, 2013

Allison Plitt 2013

View a Video:The Plight of the Caribbean Artist

kaitlynongie

The Mantle: Article referencing my work
Times Ledger- Newspaper
My Master's Degree Technology Project
Video:Working in the Studio: Alternative realities of Black Music"

Video:Part 1 'Making of "Les demoiselles de moi seul"

Video:Part 2 'Making of "Les demoiselles de moi seul"
Video:Part 3 'Making of "Les demoiselles de moi seul"
Video:Part 4 'Making of "Les demoiselles de moi seul"
Video:Part 5 'Making of "Les demoiselles de moi seul"
Video:Part 1 "Lecture at York College; CUNY; 2004"
Video:Part 2 "Lecture at York College; CUNY; 2004"
Video:Part 3 "Lecture at York College; CUNY; 2004"
Video:Part 4 "Lecture at York College; CUNY; 2004"
Video:Anthropomorphic Perception
These videos were shot by my wife, Yvonne A Chambers-Wilson.




I was born in the Caribbean island-nation- The Commonwealth of Dominica (Dominica) I am an entirely self-taught artist who has been painting for the past thirty- nine (39) years. On immigrating to the USA in 1976, I became enamored with the museums in New York and other east coast cities (Philadelphia, Boston, Hartford, Baltimore, Washington D C. New Haven) In fact as far as my wife and I can drive within one day or weekend. As a result, I was tremendously inspired to advance my painting career and follow in the footsteps of the old masters by simply visiting museums in every city to which we travel . However, due to family issues, I chose not to study art (regrets that plague me constantly). Instead, I attended York College, CUNY, from which I graduated with a Bachelor's degree in Economics, Class of 1980. In 2005, I attended Touro College, graduating with a Master's degree in Instructional Technology, Class of 2009. Presently, I teach Spanish at a Middle School in Queens, NY.

My frequent visits to museums all over the USA and more recently London and Paris have served as my instructor. My predilection for visual puns was first kindled by my late mother, Mrs. Leoma A. Wilson, (1911 -2010) when she was teaching my late brother, Eddie, and me to read. Having asked Eddie to identify the map of Italy, which he couldn't do, mom then gave him an unforgettable hint. She said, "Italy is kicking Sicily". My interest in the double entendre lyrics of my life-long calypsonian hero, The Mighty Sparrow, further inflamed my passion for visual and auditory puns. But the catalyst that finally ignited my passion for visual puns was my discovery of the double image paintings of the Spanish surrealist painter, Salvador Dali and my reading of Leonardo da Vinci's suggestion to the artist about enhancing his faculties creative invention. That made me realize that I had found the style in which I wanted to continue painting. So, I sought to exploit this style to the fullest extent possible, hopefully beyond the accomplishment, in that genre, of even Dali­ himself.

In my style, which I call "Anthropomorphic Perception: An exercise in Ultra-Perceptive Plausible Juxtaposition." I seek to portray alternative realities within the human form by strategically and plausibly juxtaposing commonplace that reveal to me their anthropomorphic characteristics. However, my use of inanimate objects to represent the human form is reminiscent of the cruel and reductive equation that slavery made with my African ancestors, depreciating them, in the eyes of their slave-masters, to the level of merchandise; bought and sold on the auction block.

The influence of European artists, however, is not lost in my endeavor and as Leonardo da Vinci sinstructed, "the artist may enhance his faculties for creative invention by staring at a stain on the wall and therein perceive whatever he wishes to see." I have used this technique to discover what I call " mnemonic images" (objects that my mind's eye perceives within an image, which are reminiscent of aspects of my personal life story) in the images that inspire me. The mantra that I use is to rationalize my observations is: "In every squiggle, there is a image hidden"
"Mnemonic images" are the component parts of my creations, which I discover when I scrutinize the contours of a source image. They frequently have personal significance in my life. The ubiquitous "hand of bananas" is a deferential reference to the "hand that fed and still feeds me" which is the hand of my late father Mr. Henzie A. Wilson, who worked for seventeen of my formative years within the Banana Industry in my native, Commonwealth of Dominica, W. I. The boats in every painting were his working capital after he left the Banana Industry in 1969. The mountains which frequently double as eyebrows are located in my hometown of Portsmouth, where I first observed my parents' sweat from their brow trying to raise us in a decent home environment. That recurrent bay with boats moored therein is also Portsmouth and it represents my mother's face, because it was in that town that my mother first stimulated my imagination towards the perception of visual puns. The inconspicuous Y that simulates a woman's decolletage etched on vases and which represents a woman's accentuated breasts are a referential tribute to those on which I have laid my head for the past thirty (30) years - Y for Yvonne's. Every nude, whether she may be in the form of fruits and vegetables (nutritious and delectable) or a table or an apparition between trees is none other than my muse whose sinuous contours beguiled me one Sunday morning in February 1978. My eyes have not receded into their sockets since.
I presently live in the Jamaica area of Queens, New York, with my wife and muse of thirty (30) years, Yvonne A Chambers-Wilson. My works can be found in the Dominica National Museum and the Old Mill Art Centre in Dominica.